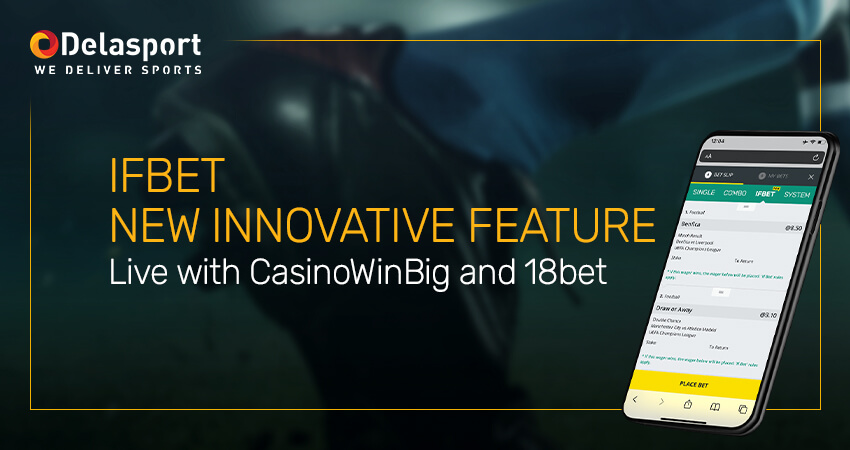 Delasport, in collaboration with top operators 18bet and CasinoWinBig, is happy to announce the debut of their new If Bet function. "If Bet" is a novel and creative feature that allows bettors to link several single bets with a single wager, thereby automating up to seven consecutive bets. The new feature adds to the betting experience by allowing players to cascade several bets with a single wager in a quick and automatic manner.
By introducing this new option to their customers, 18bet and CasinoWinBig will be able to provide a fresh and engaging method to bet, as well as setting themselves apart from the competition.
If Bet allows bettors to make numerous selections of single bets for any single initial wager. If their initial pick loses, they lose the stake, and the rest of the underlying IfBets are canceled – but if it wins, the system will automatically place the following bet, using the original stake or, if chosen, with a multiply option that stacks the gains on.
Oren Shwartz, CEO of Delasport, elaborates:
"If Bet is yet another feature that we can add to our betting experience offering to enrich customer experiences. If Bet is a great choice for players that like betting accumulators like a combo (parlay), but with a lower risk for a lower payout. With If Bet, 18bet and CasinoWinBig players will be able to have a new and fun way to bet in a very simple and intuitive way"
Alex Schneider, VP Sportsbook and ESport, also comments:  
"If Bet is still a rare feature on the market, especially when it comes to multiply functionality, therefore we're delighted to be one of the first to provide it to our worldwide player base."
Steven Andrews, Head of Sport at SportEmpire, also adds:
"Our collaboration with Delasport's continues to provide outstanding outcomes. With the addition of the new "If Bet" function, punters who want to get the most out of their betting experience will have even more options. Thank you to the Delasport team for recognizing the necessity to provide new betting options in the industry."