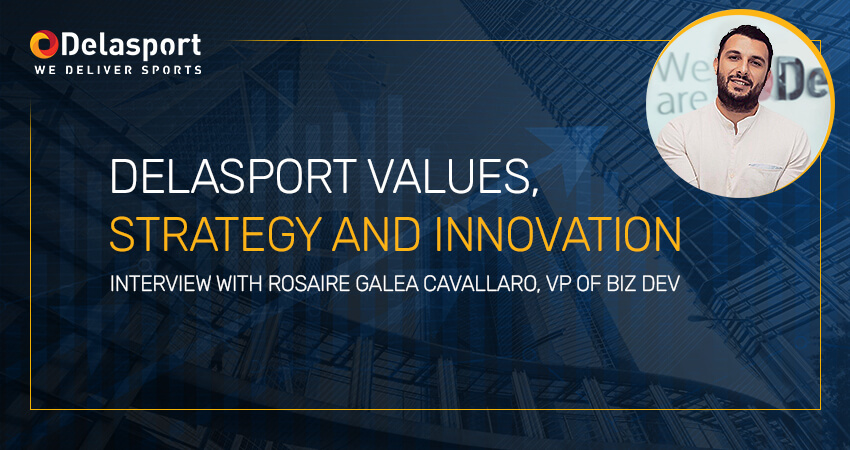 Rosaire Cavallaro is the Vice President of Business Development at Delasport since the first half of 2023. Before taking on the role, Rosaire held other leadership positions at various iGaming companies: Head of Sales and Commercials at BETBY, Head of Sportsbook at Bet Entertainment Technologies, and a few more. His level of professionalism and knowledge of the industry makes him the perfect fit for a fast-growing company like Delasport. Have a look at our conversation to learn more about him, the strategy he bets on, and the values he shares with Delasport.
Rosaire, what led you to your current role at Delasport?
– It was a logical step in my career. I've been working in iGaming for about 13 years, and I was ready to join a company on the rise – one where my impact would be significant every step of the way. My experience with innovation in the industry comes in handy in such a forward-thinking team and environment. And I couldn't be prouder of my choice.
What are the innovations that set Delasport apart from the competition?
– Delasport business is propelled by innovation and the company has demonstrated its devotion for leveraging players betting experience. The My Sportsbook personalisation, My Event Builder, and If Bet are just a few examples of the plethora of additions to the company's product portfolio and more are on the way! And to top it all off, our managed services allow our clients to focus on player attraction while we handle all operations, risk analysis, and customer support. We are also very strong on the gamification front. We are a unique breed in the industry as we are striving to bring player engagement tools not only to Casino but also to Sportsbook. For example, our licensees can offer tournaments, missions, achievements, and mini games to their sports bettors.
What markets does Delasport operate in?
– We're fully compliant with numerous regulated markets across Europe, namely the UK, Sweden, Denmark, Germany, Netherlands, Romania, IOM, Malta and in Ontario, Canada. It's a pure pleasure to work with such professionals as the operators in a lot of these markets. We are committed to keep expending globally as it allows us to support our licensee's strategy and gain new local partners. We're now looking at obtaining licenses on new territories, but I'll have to keep further details in confidentiality for now.
What is your strategy as VP of Business Development on entering new markets and expanding in current ones?
– A hands-on attitude with personal, custom-tailored approach. Every market, every segment, and every partner have a unique set of needs and we'll continue treating each of them individually, with content and service localization. For a long time now, Delasport is a player-centric instead of a product-centric company. I'll personally meet with as many operators as possible, while the rest of the process will be handled by our experienced team of professionals.
Speaking of markets and segments, who are the partners that Delasport is looking for?
– We have flexible solution that is designed to fit different partners' needs. From a full comprehensive turnkey of Sportsbook, Casino and Managed Services to Sportsbook iFrame, to Feed and API Betting. Some partners require full player migration and we have gained a lot of experience in it. Some has their front-end and build their entire offering in front of our API. We have recently more and more request for iOS and Android apps.
What are the values you base your strategic decisions on?
– Professionalism, Excellence, Transparency, and Constant Innovation. Those are the pillars of our work at Delasport. Professionalism is key and is achieved through the vast experience of our team members. Excellence is what we always strive for when developing, launching, and maintaining new features and services. Transparency is one of the cornerstones of our strong partnerships with operators, while constant innovation is the driver behind our creative force.
To stay up to date with Delasport's latest achievements, market compliances, and expansion, follow us on LinkedIn or keep an eye on the 'News' section on our website.