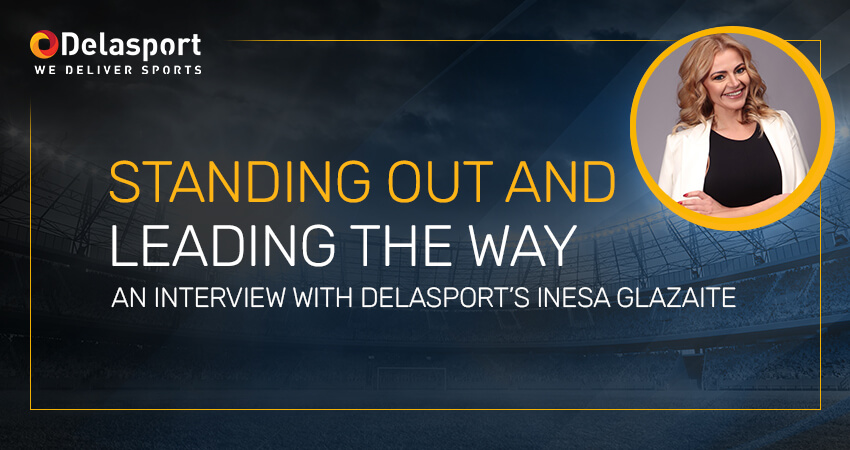 The world of iGaming has never been more competitive: therefore, the role of Technology providers becomes critical when it comes to supporting operators with the right products and services to successfully compete in their markets. Join us as we talk to Delasport's Senior Sales Director, Inesa Glazaite to find out more about what operators value the most, how to engage them, and how Delasport differentiates itself in a crowded market.
How/why did you start working for Delasport?
Having worked in the iGaming industry for more than six years, I have had the pleasure to work for companies like NetRefer and Soft2bet. I have gained a lot of hands-on experience in affiliation and iGaming operation, so I can advise partners on how to launch a new gaming site, grow their existing brands, know which markets are the most profitable, which suppliers are the most reliable, how to stand out from the competition, and how to ensure that their projects are the most popular.
Delasport is a growing force in the iGaming industry and I have found it very appealing that the company really focuses on leveraging the betting experience.  Furthermore, I wanted to be a part of a business that not only raises the banner of innovation but actually delivers it.
What do you think today's operators value most?
I believe that we all value reliable partners who always help to find creative solutions, go the extra mile for success, advise and stand by their partner's side in even the most difficult situations. Apart from that, the iGaming industry is very competitive, so operators are looking for top-notch software that continuously implements new products and innovative features to make them stand out from the competition.
It's also important to have an experienced and knowledgeable team that can come up with new ideas, do market research, find the most profitable markets, launch new projects and ensure that revenue is always growing. Delasport offers it all.
What are the different approaches you take for new market entrants vs. established businesses?
When my partners want to enter a new market, we do the market research together to ensure we are aware of all regulations (technical and regulatory), marketing possibilities, player analyses, required funds, etc. We work as a team to cover all the aspects and make sure that we will be profitable there.
When I work with established businesses, the main task is to understand what is missing in their current projects to help them grow further. When we find the gaps, we fix them and add new innovative features based on partners' targeted markets, their customers' behaviour, and requirements. It's all about teamwork and real partnership, and as I like to say: "Alone we can do so little; together we can do so much."
What key differentiators do operators need to stand out?
Operators must have a top-notch platform that can be easily adjusted in case of any regulatory changes. They also have to offer innovative features, so they can retain existing and attract new customers. It's important to have gamification that helps players remain engaged all the time, with plenty of choice between different products and verticals. For instance, Casino-only brands risk losing players to brands that offer Sports and other products. By choosing the right supplier, operators can stand out, grow without limitations, and ensure new revenue streams on a monthly basis.
How important is technological innovation in customer retention?
This is one of the key factors to success. A technical innovation attracts new and retains existing players. Different features allow operators to cross-sell and engage their customers while protecting and increasing their revenue. With Delasport's technical innovation tools, operators can create a unique offering, compete more successfully in their markets, and retain their players in more effective ways.
What does Delasport offer that others don't?
Delasport's experts hold many years of experience in Sports betting, iGaming, technology, operations, compliance, UX and product development. Our partners can rely on our experienced management team with extensive knowledge and track record.
To differ from the competition and help our partners to compete successfully in competitive markets, we constantly implement new functionalities such as: If Bet, Combo of the day, geo-localisation content, personal trader, and more. Another part of our offering is advanced gamification that helps operators to increase LTV, attract new players, reduce costs and increase revenue.
The product includes tournaments, spin the wheel, store, bonuses, different badges, and levels. And, underpinning it all is Delasport's proprietary technology, together with our team's knowledge and experience.
What key markets are you currently focusing on? What markets do you think have the most potential?
We are following a market-availability strategy and expanding to more and more markets globally.  For example, Sweden, Germany, Malta, Denmark, Romania, Holland, Mexico, the USA – with Ontario and the UK being the most recent. Our platform, Casino and Sportsbook are built on a framework that allows us to adopt regulation and market requirements quickly. When we enter a new market, we start with a gap analysis and then implement the necessary features to allow localized Sports and Casino content, American and European views (terminology, UX betting widgets, odds format, etc.), local payment solutions, and follow required KYC processes. This will also help our partners to expand globally to various regulated markets powered by fully compliant Sportsbook, Casino, and PAM. Additionally, our partners can strengthen their current projects and earn more.
Is there any big news from Delasport coming up soon?
Yes! Please follow us on social media and soon you will see our new feature that has been created by combining our knowledge, innovative minds, and data-driven tools!