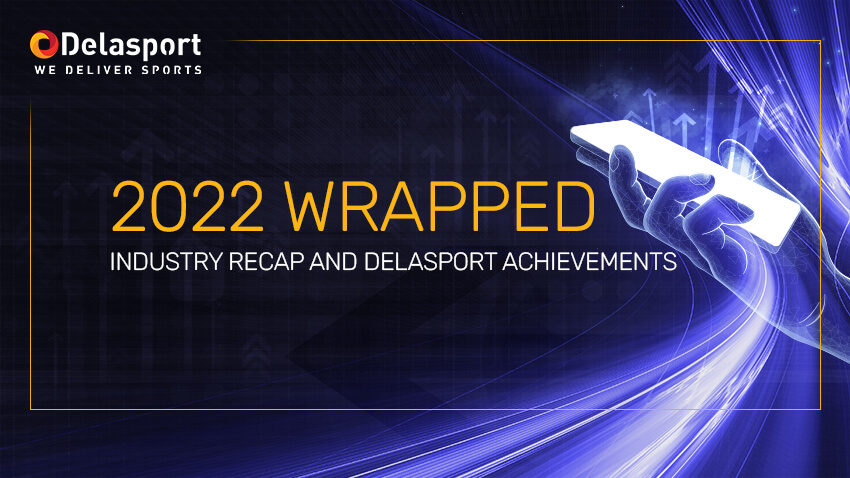 2022 has been a dynamic year for the iGaming industry and Delasport, with many changes, both big and small. Join us as we take a look at the year as a whole, including industry performance, new trends, technologies, markets, and Delasport highlights.
Contents
Industry highlights
Industry Performance
Mobile keeps moving up
Markets
Player centricity comes to focus
Gamification and personalization
Delasport highlights
New technologies, new innovations
New markets
Awards and events
Company growth
Onto 2023
Industry highlights
Industry Performance
In 2022, the iGaming sector displayed strong growth caused by an increase in online gambling as a whole because of the COVID-19 pandemic that changed how people travel, socialize and consume products. Other growth factors include the release of better games, enhanced security protocols, 5G Internet, and the introduction of new payment methods. As such, the global iGaming market saw an increase from $73.42 billion in 2021 to $81.08 billion in 2022, at a compound annual growth rate (CAGR) of 10.4. Furthermore, the online gambling market is expected to grow to $115.13 billion by 2026 at a CAGR of 9.2%.
Mobile keeps moving up
The market for online betting is being driven by the rising use of smartphones and easier internet access. Globally, mobile device usage is significantly higher than that of desktop or laptop computers. Around 80% of all online gambling users are on mobile devices in most countries. According to a study done by the Gambling Commission, mobile phones will continue to be the most popular way for younger people to access online betting in 2023 and beyond. And logically, iGaming operators benefit highly by having mobile apps on their behalf as well.
Global Internet users are anticipated to reach 5.3 billion by 2023, growing at a CAGR of 6%, while smartphone shipments are anticipated to increase at a CAGR of 7%. This is then anticipated to fuel the iGaming market.
Markets
In 2022, legislation to legalize online betting was under consideration in six states (Illinois, Indiana, Iowa, Kentucky, Massachusetts, and New York), however, it was not passed. But it was decided that New York State would be launching its online sports betting market on January 8.
In other market developments, the Joint Gambling Authority of the Federal States (GGL), Germany's federal gambling authority, will assume complete market control.
Then there is the sleeping giant, Brazil, which has for many years tried to find a way towards regulation. The good news is that conversations are still happening, bringing in a sense of optimism that the country is getting closer to joining the global iGaming market.
Finally, on April 4, 2022, the Ontario government formally opened the market for sportsbooks and internet casinos, opening a new gambling scene that has fast grown into one of the most promising iGaming prospects in the world, with an estimated gross gambling yield (GGY) of 600 million euros and a population of over 14 million.
Player-centricity comes to focus
Player-centricity has been very much in focus throughout 2022 and will be continuing to evolve over the coming years. With so much global competition, products are no longer at the center of it all. Instead, operators and suppliers are looking to create experiences that gravitate around the player in the hopes of acquiring long-term players who buy into the ecosystem thanks to improved features such as personalization and gamification.
Gamification and personalization
Key components of player-centricity are gamification and personalization, which have also come heavily into focus over the past year. The positive psychological reinforcement from gamification gives players the thrill of beating the system, passing a milestone even triggering an exclusive feature.
In 2022, operators have also invested heavily in personalization with the aim to drive revenue growth through conversion improvements and acquisition cost savings, as well as increased player retention. For the players, personalization creates a more pleasurable onboarding and gaming experience by providing a balanced mix of familiar favorites and the sensation of novelty and discovery.
Delasport highlights
New technologies, new innovations
As a major driver in the industry, Delasport has had its own share of developments over 2022: most notably in the release and announcement of several innovative features and technologies.
One of these is "If Bet", a novel and creative feature that allows bettors to link several single bets with a single wager, thereby automating up to seven consecutive bets. The new feature adds to the betting experience by allowing players to cascade several bets with a single wager in a quick and automatic way.
Hot on the heels of If Bet, is something Delasport has been developing for some time and is close to being formally announced.  The 'My' era, features two products that are not only distinct from each other but from anything else in the industry as well.
'My Sportsbook' tailors the home screen for sports bettors after they complete a wizard-like questionnaire, giving them the power to see only what they want to see, right from the get-go. 'My Event Builder' takes personalization even further by giving players the ability to create their own custom events. For instance, bet for PSG to win over Man UTD F.C., while Man UTD is playing in real life against Chelsea, and Paris Saint-Germain F.C. is playing against Strasbourg. If in their events Man UTD score 2 and PSG score 3, the player has a winning ticket.
New markets
In 2022, Delasport has entered and fully complied with eight new markets: Romania, Malta, Sweden, Denmark, The Netherlands, Mexico, Germany, the UK, and soon Ontario. In addition, they obtained the Gaming Labs International (GLI) "Events Wagering System" certification standard GLI-33 and "Interactive-Gaming-Systems" certification standard GLI-19. These certifications enable them to bring their one-stop-shop Sports Betting, Online Casino and Managed services to the US.
For more industry information take a look at our new section Market Reports!
Awards and events
The year has been an exceptional one for Delasport, who have traveled to no less than 12 global events to spread the word on iGaming excellence – and to collect some awards as well. 2022 saw Delasport nominated for 23 awards and winning Online Sports Betting Supplier of the Year at the Sigma, and White Label Supplier of the Year at the SBC awards in Barcelona.
Company growth
And finally, in this 2022 wrap-up, we can briefly touch upon what has made the above possible: Delasport's dynamic and ever-growing international team. 2022's growth has been massive, not just in product scope and reach, but in certified, licensed, and compliant markets, (eight of them) as well as in manpower. Over 100 people have joined the company, each bringing their experience, passion, and talent to a business that is going from strength to strength. This number is likely to keep growing alongside Delasport's holistic portfolio of products, services, and valued partners.
Onto 2023
So, there's 2022 in a nutshell. It's been an incredible year, both for the industry and for Delasport. We're sure that 2023 is going to build upon all the above developments and reach new heights – and we'll all be there for the ride.