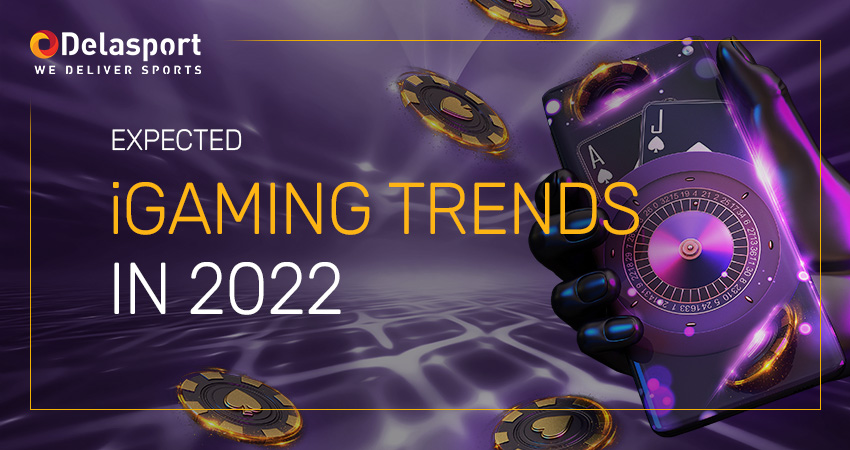 The online gaming business has seen a significant transformation in the last few years. New technology trends are evolving at an unprecedented rate, presenting possibilities to improve player experiences or create wholly new ones. As such, all companies in the industry are locked in a technological arms race – focused on providing the best gambling experience possible while differentiating themselves at the same time.
Influenced by the ongoing global pandemic, together with new player expectations, behaviors, and emerging technologies, here are the iGaming trends we expect to see in 2022.
2022 iGaming trends at a glance:
Market growth and regulation
Sports Betting as a must-have product
Gamification and video game elements
Video streaming
Consolidation M&A, leagues, and global media companies' involvement
Esports trend gains traction
Mobile betting trends
Smart TV, augmented reality and VR
Market growth and regulation
According to H2 Gambling Capital, the online gambling global market size has already passed 70€bn a year and is expected to pass 90€bn in 2025. In 2021, 73% of the total market GGR was generated from regulated markets – an iGaming trend that is expected to continue as more and more are regulated. Governments are rightfully and actively seeking to find new revenue sources, and even more so due to the ongoing pandemic's effect on economies. By forming regulatory bodies and legalized gambling activities, governments can collect revenues from gambling tax and licensing, increased employment, and decrease illegal betting all at the same time.
Sports betting as a must-have product
According to H2 Gambling Capital, the global sports GGR consist of 49% out of the total iGaming revenues. We expect to see a clear iGaming trend with the sports share growing even more than the other products. And not because of the football World Cup this year – but mainly because the U.S. is predominately a sports betting market.
The online gaming market in the US is valued at 2B USD and is forecasted to grow and reach 8.5B USD GGR by 2025, representing CAGR of over 15%. More than 25 states have already legalized mobile sports betting and 14 more are in process, while only six states have legalized iGaming (casino): Connecticut, Delaware, New Jersey, Michigan, Pennsylvania, and West Virginia.
On sponsorship deals, we also expect to see more involvement in iGaming from leagues. For example, we have already seen The Premier Lacrosse League announce an agreement with DraftKings, BetMGM with Ladies Professional Golf Association, and PointsBet with the Colorado Buffaloes college team. Sports betting will also further become a must-have product as current casino operations may lose players to those who have discovered betting on sports, never to return. In addition, the CPA (Cost Per Acquisition) fees for sports players are lower than for a casino, with the bonus of some players still being successfully cross-sold to casino (mainly live Casino).
Gamification and video game elements
While video games in the traditional sense and iGaming have many differences, many elements from video games have been making their way over to iGaming as a sturdy trend. All with a focus on better visuals, more interactions, more mission-based gameplay loops, and more themed / role-playing mechanics. Companies like Green Jade, Skywind Group, and Spribe are experimenting with arcade-like games. For instance, Skywind's Fly Jet is a real money fly-and-shoot game where players fly through five different locations and fight bosses to chase massive cash prizes. Another example that has gained large traction is Spribe's Aviator, a social multiplayer game that originated from the video game industry.
To truly stay ahead of the competition and trendy at the same time, developers will need to continue improving the visual fidelity of their games to match the screen resolutions of today's more sophisticated smartphone devices to provide more immersive experiences.
Video streaming
In 2006, Google identified the future of video streaming and acquired YouTube for 1.65B USD. In 2007, Evolution Gaming started to stream roulette live dealers, introducing the concept of enjoying gambling experiences from the comfort of home, while retaining important social interaction.
The ability to play casino games remotely while interacting with a genuine live-person dealer has turned out to be considerably more exciting than anyone could have expected. Logically, it became a must-have iGaming trend because live dealers, after all, not only provide a more authentic and legitimate gaming experience – they create a deeper connection with the players and can even foster a better sense of trust between operators and players.
In live streaming, we will see more and more studios trying to get a share of the growing market, including companies such as Skywind Group and EGT. Other expectations include the continuation of the localization trend where studios produce local games like Andar Bahar, and the continued adoption of Show games that have been popularized by Evolution Gaming – as we can already see from Pragmatic Play with their very first Show game, 'Mega Wheel'.
Consolidation of M&A, leagues, and global media companies' involvement
iGaming companies are looking to increase their market standing, with some looking to acquire technology companies to own the software and control their own destiny – while others are looking to quickly expand to existing and emerging markets by acquiring companies that already have access to licenses and knowhow in local regulation requirements. We have already witnessed 888 acquiring William Hill's European business, Fultter acquiring The Star Group, Draftking's acquisition of SBTech and we will see more M&A activities in the U.S. online betting industry.
We also expect to see more involvement in iGaming from leagues and media companies following leagues like the NFL, as well as media companies such as Fox and Sports Illustrated looking to take a piece of the action.
Esports trend gains traction
There are now more options to gamble on Esports than ever before and this will continue to be a developing iGaming trend in 2022. Once considered as a niche market, eSports are now attracting a rising following – to the point where some TV channels stream Esports-focused channels as part of their bundles, creating an even wider appeal. This is especially prevalent for generation Z, who already play these games for recreation. According to NewZoo prediction, the Esports market share will grow to $1.8 billion by 2022.
The increased sophistication of traditional video games has also added to this trendy rise. Better graphics, more complex mechanics, and deeper gameplay loops can make for more competitive and engaging experiences. Gamers from all around the world can now wager on games like FIFA, League of Legends, Dota 2, Valorant, Overwatch, Fortnite, and others across console, PC, and even mobile platforms.
Mobile betting trends
The trend of mobile betting will continue. In all markets over 50% place bets on mobile devices, and in some markets, it has already reached 90% of overall transactions. With 5G speeds becoming the norm, gaming on smartphones has never been easier or more seamless. Some operators are even offering welcome packages exclusively to mobile. In the Apps category, we may see Google and Apple opening more markets for Mobile Betting Apps.
Smart TV, augmented reality, and VR
Technologies such as AR, VR, and Smart TV applications are still in their early adoption phase in the mass market and are even more in their infancy when it comes to iGaming and online casinos. However, we do expect to see them gain traction and become a real gambling trend in the coming years as the technology becomes more affordable and accessible to the average consumer.
Conclusion
The iGaming industry has come a long way and has evolved from niche beginnings to become one of the world's largest and most profitable industries. The rivalry in the online casino industry is also fiercer than it has ever been, with many online casinos going to great lengths to differentiate themselves.
Ultimately, every operator's purpose is to attract gamers. While bonuses, promotions, awards, and customer service are all great motivators, staying on top of the latest technological and social trends will be essential for their survival through 2022 and beyond. So, make sure you keep a close eye on the latest iGaming trends in order to stay on top of your game!