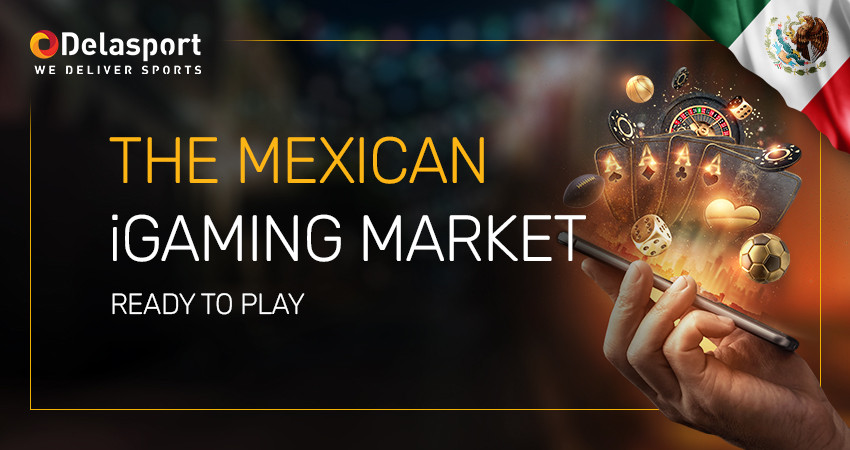 It's no secret that the iGaming potential in Mexico is huge and that operators are noticing just how big the opportunities are. With a population of nearly 130 million people and a high mobile penetration of approximately 80%, Mexico is poised to become a serious player in the worldwide online gambling industry. Here's a rundown of the Mexican iGaming market as it stands today, and what we expect for tomorrow.
Contents:
Mexican online gambling laws
The current Mexican iGaming market
What online games are popular in Mexico?
Popular sports to bet on in Mexico
Challenges and prospects in Mexican iGaming
What we expect to see in the future for Mexican iGaming
Mexican online gambling laws
Despite the fact that the Federal Gaming and Raffles Law of 1947 do not directly prohibit internet gambling, it is deemed permissible under the 2004 regulation. Online operators must have a license, but B2B providers do not need to get a separate gaming license. Operators, on the other hand, are required to disclose the identities of their providers.
Currently, there are dozens of sports betting and casino operators in Mexico, the majority of which are working with internationally licensed operating firms – that are permitted to and actively welcoming to Mexican players.
The current Mexican iGaming market
The size of the Mexican iGaming market size is estimated to be around $500m GGR with year-on-year growth of ~10%. The gambling market is divided into two ty­pes of products: sports betting and casino. Online operators must get a license from SEGOB (Secretariat of the Interior), whereas B2B suppliers do not – and operators must pay a 30% tax rate from GGR earnings.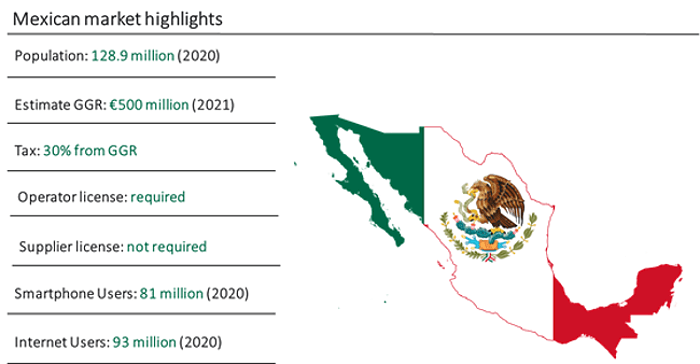 With nearly 80 million Mexicans owning a smartphone by 2020 the rapid adoption of mobile devices has had a big impact on the iGaming industry, with operators increasingly providing mobile-friendly experiences and applications to guarantee that players have access to the features they desire (like our new Ifbet function) and that they don't fall behind the competition.
What online games are popular in Mexico?
Slots (like in many other countries) are amongst the most popular casino games played online in Mexico's leading casinos. Blackjack is also quite popular, and it is frequently featured prominently on casino sites. There is also a lot of interest in live casino gaming, particularly blackjack and roulette.
Many of the same games are available in Mexican online casinos as they are in international ones, but local gamblers have their own preferences when compared to those in other countries. Video slot games with Mexican and South American themes are popular, such as Inca, Da de Los Muertos, piñata, and others. The Mexican e-casino market is well-developed enough to provide popular games, mobile gaming experiences, bonuses, VIP programs, and other benefits.
Popular sports to bet on in Mexico
Mexico's tax income from sports betting is estimated to be over $300 million USD each year. Mexicans, like the rest of the world, worship football, and this enthusiasm naturally extends to sportsbooks. With a large number of spectators and bets, Mexico's Primera Division is the most popular football competition in the country. International leagues such as the English Premier League, German Bundesliga, and Spanish La Liga are also regularly bet on and viewed in the Mexican market. Mexican sports fans are surprisingly enthusiastic about American football to the point where the NFL makes it a point to play games in Mexico City every year, with NCAAF also getting high viewership.
Baseball is also popular in Mexico, with local leagues attracting a lot of attention and wagers – as well as the Mexican Baseball League and Major League Baseball both seeing a large number of bets.
Don't miss the chance to read our Ontario iGaming Market Report!
Challenges and prospects in Mexican iGaming
Around 60% of Mexican gamers wager on sports, while 40% gamble on more typical casino games including slots, blackjack, poker, and the lottery. While operators will undoubtedly provide experiences in both of these verticals, the quality of those experiences will be what gives operators the edge over the competition.
Experiences must evolve – Mexican operators have a significant challenge against rivals that provide high-quality digital sportsbooks and online casino experiences. The overseas market is already developed in this regard, so players already know what good experiences look like. As a by-product of this, the number of specialist providers who can integrate advanced features into an operation has also increased, providing complete solutions that don't need to be created in-house.
Marketing matters – As demand and customer numbers go up, Mexican operators are finding it necessary to invest heavily in marketing.  Rather than relying solely on above-the-line communications such as billboards, radio, or word of mouth, operators looking to grow their online business will need to embrace social media and other major digital platforms to raise awareness and demonstrate that they are authorities in their field and that they understand the importance of today's digital landscape.
What we expect to see in the future for Mexican iGaming
Mexico is well-positioned to become a significant global player in the iGaming arena because of its fast-growing technology adaptability, population density, and operators hungry for success. In Mexico's iGaming market, we foresee tremendous growth, with both existing operators looking to establish themselves before the local market reaches saturation.
This isn't to say the opportunities have already been snapped up – the industry is still very much in its infancy in Mexico when compared to Europe and North America. To catch up quickly, we expect to see Mexican operators partnering up with companies such as Delasport to provide them with the technology they need to attract the players.
Our sportsbook and online casino solutions are already fully featured for the modern player and are perfect for companies who want to start trading as soon as possible.  Our recent partnership with Winpot, a licensed Mexican operator, is just one example of how we're making an impact on the industry and we expect to be working with more companies as the market matures.