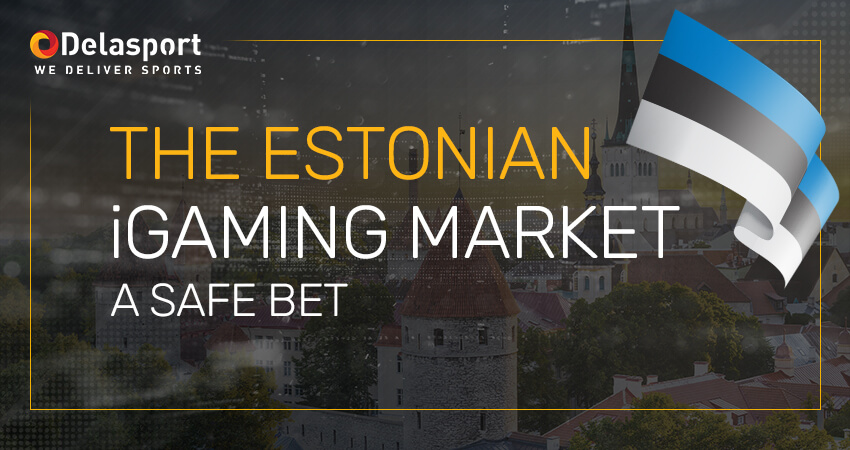 The Estonian iGaming market presents a promising environment for operators and suppliers as one of the most recent and well-known gambling landscapes in the EU. As a result of reasonable legislation, low taxes, lengthy licences, and other benefits, the Estonian iGaming industry has experienced consistent growth both offline and online.
In our Estonia iGaming market report, we look at the setting in Estonia, what the rules are, who is playing, and what tomorrow may bring to one of the EU's most promising betting landscapes.
Contents:
Current gambling market in Estonia
Online gambling legislation in Estonia
Advertising rules for gambling in Estonia
Preferences of Estonian gamblers
Popular sports to bet on in Estonia
The future of gambling in Estonia
Current gambling market in Estonia
Estonia has long been known to be a preferred location for iGaming operators because of strong infrastructure elements, including a progressive legal framework, political stability, top-notch telecommunications, and a firmly developed financial services sector. As a result, many gambling websites operate out of Estonia, spanning across Sports, Casino, bingo, and more.
Recent studies estimate that 70% of Estonians have participated in betting for real money in their lives, with nearly half of the population of gambling age having paid for gambling in one way or another over the past two years. About 40% of adults have gambled offline, compared to about 30% of adults who have gambled online. Although as more operators enter the country and technology continues to evolve, the dominant and preferred way to go is on an online betting platform.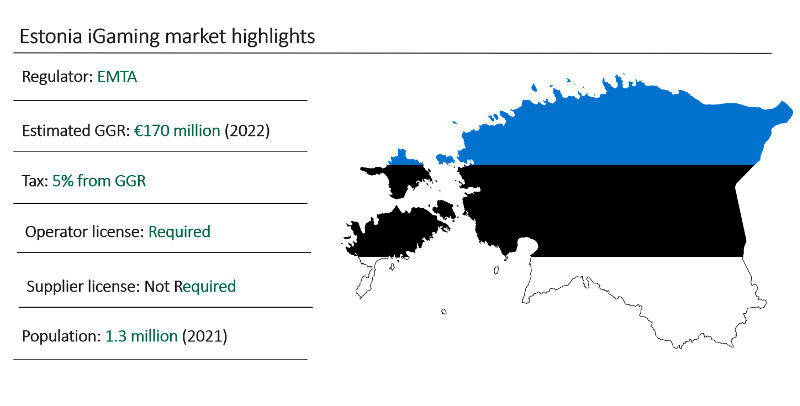 Online gambling legislation in Estonia
Estonia is a former Soviet Union republic and therefore has a brief gaming history as the USSR outlawed all forms of gambling. However, today paints a completely different picture.
There are two pieces of legislation that regulate all gambling in Estonia, making up the regulatory, taxation, and legal framework for all types of online betting.
The Lottery Act of 1994 and Gaming Act of 1995
After Estonia gained independence and made gambling legal, these two laws were the first gambling regulations to be enacted in the nation. A state lottery, which was a monopoly, was established under the Lottery Act, and the Gaming Act of 1995 was passed to make all offline gambling in Estonia legal, including betting shops.
The Gambling Act
This law, which was passed in 2009 and went into force in 2010, dealt with online gambling in Estonia. The Gambling Act of 2009 was the first law in Estonia to address internet gambling, whereas earlier legislation (The Gambling Act of 1995 and the Lottery Act of 1994) concentrated on offline gambling. The requirement for a gaming license was established by this Act and is still in effect today. The law also specifies which types of online gaming are permitted.
The Gaming Act formerly mandated that all servers be situated in Estonia, but that provision was removed in 2012 after the Act underwent modification. Operators are permitted to conduct business in Estonia under this amendment, provided that their servers are situated in a country or territory with a valid license. Additionally, the nation where the server is located must liaise with the Estonian Tax and Customs Board.
Don't miss the opportunity to read our market report about Online Gambling in California!
Advertising rules for gambling in Estonia
The 2008 Advertising Act, which put a complete ban on advertisements for casinos and sports betting, governs the promotion of gambling services and goods in Estonia. The only area of gambling that is exempt from the ban is the lottery.
The document only permits the promotion of gambling games in the following circumstances:
On the premises of the gambling venues (such as hotels)
Messaging over email, phone, or the post if the individual is subscribed and can cancel that subscription at any time of their choosing
Sponsorship announcements in form of outdoor advertising
On board international ships/planes and in airports
On official operator websites
Preferences of Estonian gamblers
As touched on earlier, a study of the Estonian gambling market was undertaken by statistics firm, Kantar Emor in 2019, showing that 70% of the population had gambled at some point in their lives.
According to the data, men between the ages of 30 and 39 make up most gamblers in Estonia. The offline gambling market is dominated by men from rural areas, especially those aged 40 to 49.
Back in 2019, there was a more pronounced preference for land-based gambling over online games, but following the pandemic, the difference has been narrowing rapidly. The study also showed that people living in rural areas are more likely to participate in lottery drawings and other offline games of chance, while urban residents choose poker and casinos.
In Estonia, both online and off, the lottery is the most popular game of chance. Over the last few years, 36% of Estonians participated offline and 25% online in lottery raffles. In terms of other games, the study highlights that 7% of the population plays slot machines, 6% bet on sports, 5% play casino games, and 11% play other general games.
Popular sports to bet on in Estonia
As Estonia is a European country, it stands to reason that football tops the list of sports bettors' preferences. As well as international competitions, the English Premier League is highly popular.
Other top football tournaments and leagues that Estonians bet on include La Liga, Major League Soccer, Bundesliga, Serie A, French League One, etc. Then there are the domestic competitions including Meistriliiga, II liiga, III liiga, IV liiga; Naiste Meistriliiga, Naiste Esiliiga, Naiste II liiga, the Estonian Cup, Estonian SuperCup, and the Estonian Small Cup.
Basketball is a popular sport in Estonia, where the Korvpalli Meistriliiga is the national championship. However, Estonians also wager on basketball events held in other nations, such as the NBA. Other popular sports include horse racing, ice hockey, Volleyball, tennis, rugby, and Esports.
The future of gambling in Estonia
The current system looks to be beneficial to operators, regulators, and gamblers alike, and there doesn't seem to be much appetite for a significant change in Estonia's betting laws. Additionally, to attract more foreign operators to apply for licenses, the Estonian government may decide to reduce licensing prices in the future.
As the general legislation seems to be in a stable place, responsible gaming is coming into focus. There have been suggested changes with a player protection and safety focus, such as a nationwide self-exclusion list. To position themselves as proponents of responsible gambling, many operators will think about incorporating them.
With such a stable industry landscape, Estonia remains as one of Europe's safest bets for suppliers and operators, and when it comes to online betting, the sky is the limit.