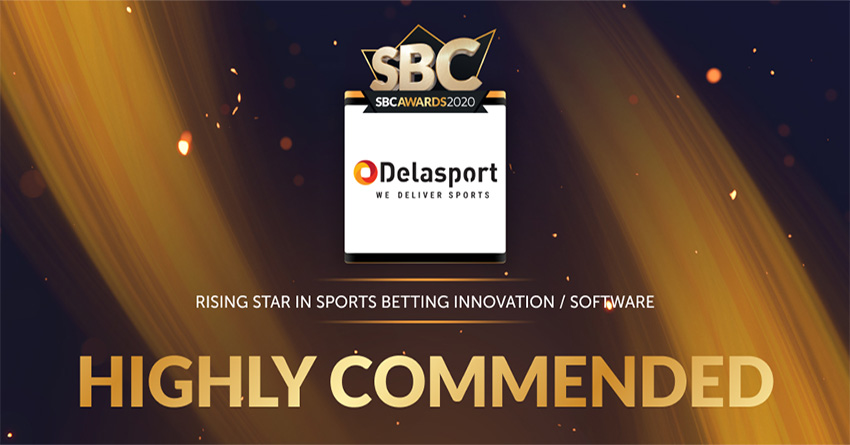 The SBC Awards 2020 held a high note once again with distinguished suppliers, operators, affiliates, and remarkable organizations all highlighted in this year's joyous celebration of the sports betting and iGaming industry.
Within this turbulent year, a great number of industry leaders took it upon themselves to solidify the importance and resilience of the huge driving force that stands behind the betting world. With the latest developments in software, hardware, affiliation and more all joined in the lustrous digital event. The SBC awards have marked the best that has come from the endeavors of top-tier providers, suppliers and visionary's within the industry yet again and done so in style.
Among them, Delasport has been innately highlighted as the most highly commended for the "Rising Star in Sports Betting Innovation/Software" category of the 2020 SBC Awards. This commendation was received for their progress within the industry for the past year, achieving record-breaking nominations from their partners, colleagues, and peers to once again reaffirm their dedication to producing and providing the highest quality solutions and services available.
The Delasport platform has proven time and again to stand above in ingenuity and accessibility, broadening the reach of the company to ever expand globally for over a decade. The standards set for the production and implementation of turnkey solutions for the betting world have always marked the company as an industry leader, pushing the limits of their technology with every quarter.
The coveted awards cover the best in the business and push the collective progress of hundreds of organizations towards even higher goals. Displaying what is considered the latest and greatest, SBC showcases the most coveted and the most revered within the past year.
The event held its seats this year with over 800 virtual guests in attendance, hosting the better part of the thriving industry in its exceptional virtual environment. The ceremonies were celebrated among other highpoint categories such as Casino Operator of the year, Sponsorship of the Year, Esports Operator of the Year, Marketing Campaign of the Year, and Sportsbook Supplier of the Year. The SBC will return in December 2021 for its 8th iteration and the entire industry can once again come together and share in the success and progress of their peers, reaffirming that once again that unity is a well-cherished staple in the sports betting and iGaming world.